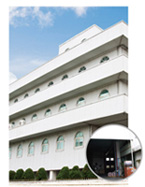 OKAY Enterprise Co., Ltd. was established in 1987 as a specialist manufacturer of microwave cookware and pet products. We believe it takes more than just a good oven to produce the best results in microwave cooking, and our wide variety of cookware is made to make your kitchen time more fun.
All products are tested to assure maximum safety and are free from any poisonous reaction by microwave. Our pet series includes almost anything you could imagine for dogs, cats, birds and fish. Besides quality guarantee, reasonable price is what keeps us competitive in the market. Our R&D team always keeps in mind of bettering our products by upgrading the production techniques and implementation of automation. Purchasers, traders, agents, wholesales and importer are welcome to discover the vastly superior results obtained by users worldwide.
Since the market demand we continue to develop & set up automotive plastic production department in 2011. We have injection molding, painting equipment.
2016 we continue to research and develop by innovative technology to make curved glass. Our glass baking technology including: making high curvature, double curvature, irregular curvature (free curvature), high precision requirements of the mirror (such as electronic anti-glare rearview mirror) has a very high yield and low cost. Welcome to contact to make samples.